Cosina, the manufacturer behind the modern Voigtländer brand, has been producing outstanding optics for the Sony E-mount for the last several years. I've reviewed several of these lenses, and have been regularly impressed.  Voigtländer has managed to produce high-end manual focus lenses that rival the very well received Zeiss Loxia line in many ways for far less money, while providing some unique options as well.  Among those unique lenses are their extreme wide-angle lenses, such as the 10mm f/5.6, which I reviewed two years ago, and today's reviewed lens, the 12mm f/5.6 Ultra Wide Heliar III.
As you can tell from the Mark III designation, Voigtländer has been making a version of the 12mm lens for quite some time, and the Mark III version was created for the sensor glass characteristics of the Sony E-Mount cameras.  While I think the 12mm focal length is a fantastic option, falling between the absolutely extreme 10mm lens and their more typical 15mm ultra-wide, for some reason Voigtländer has recently discontinued this lens.  Some may say that there's little point in reviewing a lens that is discontinued, but I disagree.  This lens will still be available used for some time, and I think it's a great option for those looking to get an extreme ultra-wide without the size and cost of something like Sony's 12-24mm f/4.  I picked up this copy of the 12mm f/5.6 when it was on clearance for $750 new. It originally retailed for $999.
Construction and Handling
The Voigtländer 12mm f/5.6 is, like all the Voigtländer lenses, a tightly constructed lens that is entirely metal and glass.  The lens is very compact for an extreme ultra-wide lens, but carries a fair bit of heft for its size.  At 283 grams, it's not a heavy lens by any means, but it is dense, and feels extremely solid in the hand.  If you've handled the wider Voigtländer 10mm f/5.6, the 12mm looks almost identical, but is slightly shorter in length and slightly lighter. The lens is roughly the same diameter as the Sony lens mount, so it doesn't impinge on your fingers while shooting. The Voigtländer 12mm is too wide to be able to take standard screw-in filters, and the front element protrudes a fair bit.  As a result, the 12mm f/5.6 has a permanent lens hood that is part of the lens barrel.  The metal petals of the hood are thick and well constructed, and provide some minor shading of the front element and some physical protection as well.
The lens has the standard Voigtländer scalloped focus ring, which is nicely damped and takes approximately 90 degrees to move from the closest focusing distance of 0.3m to infinity.  The Voigtländer 12mm is an all-manual affair, but for landscape or architectural use, I found that leaving the focus set to around 1.5m and stopping down to f/8 or f/11 yielded images that were well in focus from near to far and provides optimal sharpness for most situations, even on objects at infinity.  Only when focusing on particularly close objects is there any need to really fiddle with the focus.  Even wide open at f/5.6, the lens hyperfocal distance is around 1m, so reasonable sharpness is available at that setting.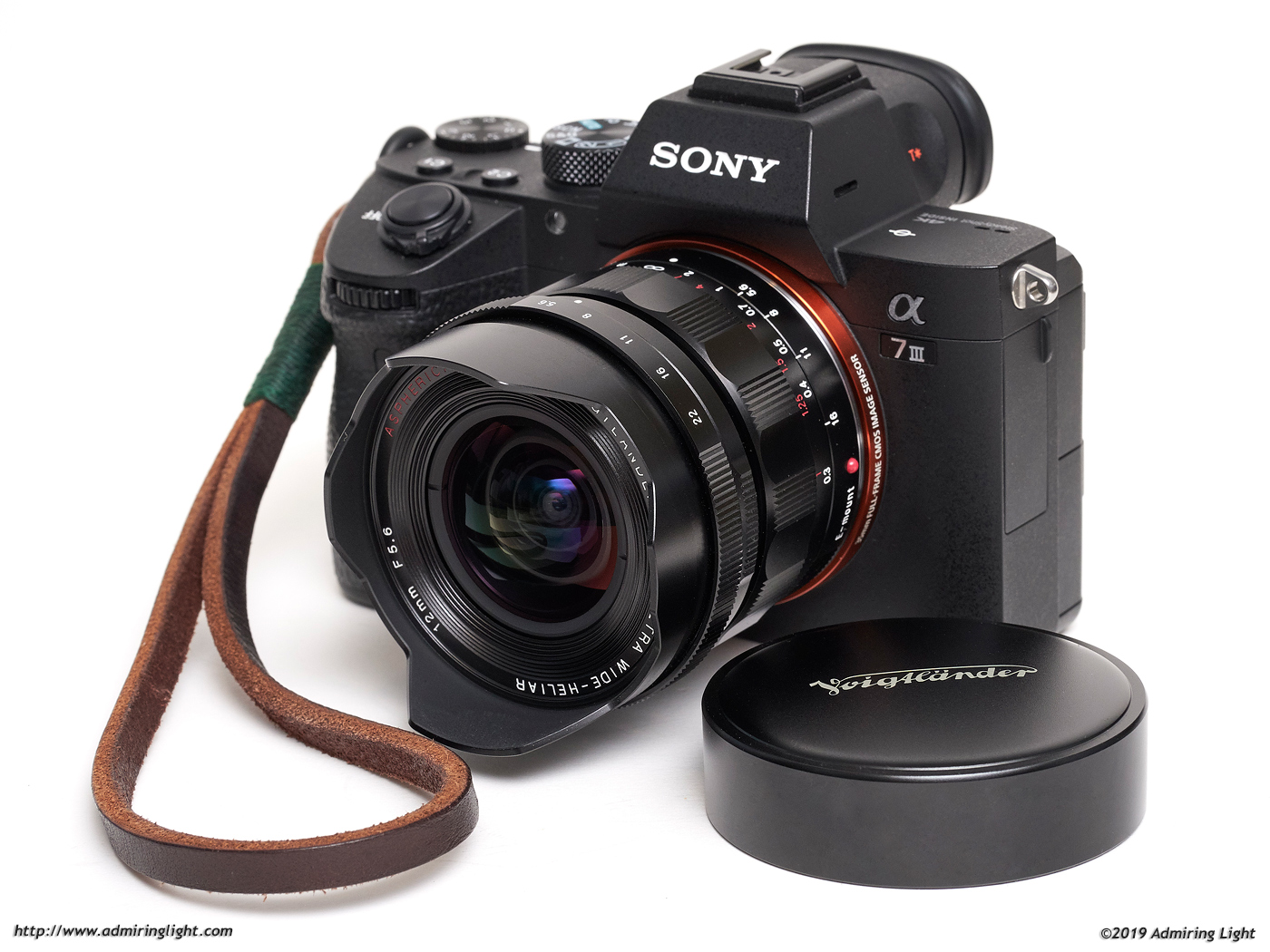 The front aperture ring is finely ribbed on about 80% of the ring, allowing for easy turning.  The aperture ring is heavily damped, with small detents every 1/3 stop.  The detents aren't particularly stiff, but the heavy damping prevents accidental changing of the diaphragm.  Like many other Voigtländer lenses, the 12mm f/5.6 has the ability to turn off the aperture detents entirely if desired by pulling the click control ring (located between the focus ring and aperture ring) towards the front of the lens, and rotating it 180 degrees clockwise.  This ring can stick a bit if you haven't used it for some time, but then rotates smoothly once unlocked.  The lens comes with a metal push-on lens cap that is felt lined.  The cap fits over the metal lens hood petals and has stayed in place nicely in the several months I've owned the lens.
Using an Extreme Ultra-Wide Lens
When I reviewed the Voigtländer 10mm lens, I noted how the extreme width can tend to pose compositional challenges, and many of the challenges in using that lens are evident with a 12mm lens as well, though to a lesser degree.  12mm is still quite an extreme focal length, and indeed was the widest that rectilinear lenses went until very recently, when Canon first pushed things to 11mm in 2015, and Voigtländer followed at 10mm about a year later.  So while wider options exist, 12mm is still an insanely wide lens.  Converging verticals can appear with just the slightest tilt of the lens, and you must be careful about the framing of your shot to ensure that unwanted elements are not intruding into the frame at the edges.  It takes a careful eye and some compositional patience to work with a lens this wide.  However, I've found that 12mm to fill a wonderful gap between the true crazy width of the 10mm Voigtländer and the starting point of most ultra-wide angle zoom lenses at 16 or 17mm.   Despite the numerical focal length falling closer to 10mm than to 16mm, you'll see in the image below that the Voigtländer 12mm falls almost squarely between 10mm and 16mm in angle of view. As a result, the 12mm focal length is still notably wider than most ultra-wide zoom lenses, but is easier to work with than something as wide as a 10mm lens.