Sigma has had two distinct strategies when it comes to mirrorless lenses.  On the full-frame side, they simply ported their DSLR lenses to Sony E-Mount (and later the L-mount) by basically building in their mount adapter logic into the lens and extending a tube to make up the flange distance, though this is beginning to change, with the introduction of three newly designed lenses for full-frame E-mount that were recently announced.
For APS-C mirrorless, they have designed two series of three prime lenses that focus on small size and high image quality.  The lenses are designed for APS-C, but they also produce the same lenses in the Micro 4/3 mount as well.  Their first foray into mirrorless was the high quality and very low-cost series of Art primes with f/2.8 apertures.  The 19mm f/2.8, 30mm f/2.8 and 60mm f/2.8 all had very good image quality at rock bottom prices, but had a few compromises with regards to autofocus (phase detection is limited to the center point).
Later, Sigma began producing f/1.4 lenses, which belong to their Contemporary line, beginning with the 30mm f/1.4, and later expanding to the 16mm f/1.4 and now the lens reviewed today, the 56mm f/1.4.  Despite the Contemporary badge, this line is perhaps better constructed than the f/2.8 Art DN lenses, and the 30mm f/1.4 and 16mm f/1.4 are widely considered some of the very best lenses available for APS-C Sony E-Mount.  The new 56mm f/1.4 has the same field of view as an 85mm on full frame, and with the wide f/1.4 aperture, will yield depth of field similar to an f/2 lens on full frame, which provides plenty of subject separation. The 56mm f/1.4 is extremely affordable at only $479, which is half of what the Fuji 56mm f/1.2 costs. Can this 56mm complete the f/1.4 trio and become the portrait prime that Sony APS-C users have been waiting for?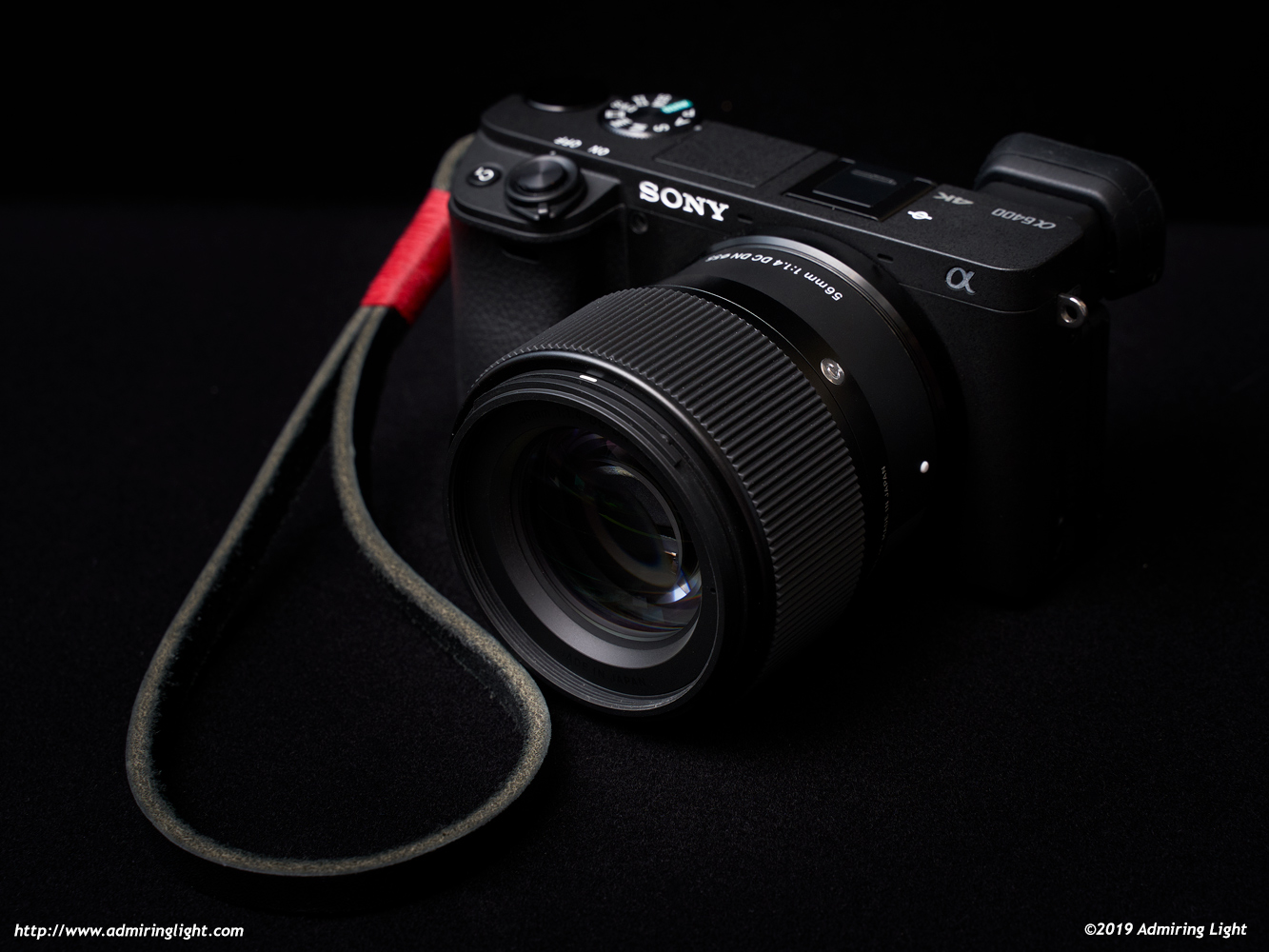 If you haven't read my reviews before, I review from a real-world shooting perspective.  You won't find any lens charts here, as there are plenty of reviews that feature that information.  I review how a lens or camera works for me in my daily shooting.
Construction and Handling
Despite being the longest focal length of the three Sigma DN f/1.4 primes, the 56mm f/1.4 DC DN is actually the smallest of the three lenses. It's remarkably compact for a highly corrected 56mm f/1.4, and creates a compact package with Sony's APS-C cameras.  The lens is roughly the same diameter as the E-mount itself, and only a couple of inches long.  In comparison to a very similar lens for Fujifilm, the Fujifilm XF 56mm f/1.2, the Sigma 56mm f/1.4 is considerably smaller.  It's constructed of high-grade plastics with a bit of metal thrown in around the focus ring, with a metal mount. There are no creaks or wobbles anywhere on the lens, and it feels like a very solid piece of kit.  Below is the lens next to the 30mm f/1.4.
The focus ring on the 56mm f/1.4 is covered with ribbed, grippy rubber, and is nicely damped. Manual focus is by wire, of course, but feels nice when the need arises.
The lens comes with a plastic lens hood that is rimmed with a fine rubber around the end, and engraved with the lens name.  It's not the best hood I've ever used, but it's better than the typical hood included with sub-$1,000 lenses.  The hood is reversible for storage, though I wish it was a little tighter to the lens body when reversed, which Sigma has done on many lenses in the past.
Autofocus
The Sigma 56mm f/1.4 has a very quiet and quick autofocus motor.  Focus acquisition is generally pretty fast, and in single shot mode, accuracy is fairly good as well.  On firmware 1 of my a6400, I has some instances where the lens would occasionally miss focus by just a bit, but I found it to be more consistent than the 30mm f/1.4, which seemed to miss more often.  The recent a6400 firmware update, though, seems to have improved accuracy with this lens, putting it essentially on-par with my native Sony lenses.
In continuous autofocus, especially when using the great new real-time Eye AF and real-time tracking modes of the a6400, focus was outstanding, yielding consistently in-focus shots with excellent speed, and this was the case both before and after the firmware update.