It's the last day of 2014, and we're about to embark on what is hopefully an excellent 2015.  The mirrorless market has been surging when it comes to realizing fully developed gear, while the actual consumer market for the devices has been somewhat tepid as the overall photography market declines.  Still, I think there's reason to be optimistic if you've invested in a mirrorless system, as it's the one category that has shown steady sales (or even mild growth) while the rest of the camera industry seems to be in somewhat of a freefall. I'm going to go over the major mirrorless systems and look at this year as a whole, plus I'll have some thoughts on the future of the industry and each of these systems.
From a site perspective, 2014 was fairly busy for me: I wrote 25 in-depth reviews of cameras, lenses and accessories this year. For the first time, I provided full coverage of Photokina 2014 in Cologne, Germany, which was my first trade show I attended as part of the press.  That plus nearly 40 additional articles kept me busy. It was an exciting year, and I hope to bring you an even broader array of reviews and articles this year.  Anyway, thanks for coming!  Now, let's dive in. Links go to the Admiring Light review or article about those products highlighted.
The Market Goes Enthusiast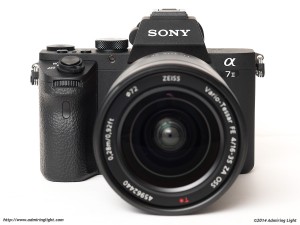 The biggest development this year was the expansion of the enthusiast and professional grade lineups for all the major mirrorless players.  This began last year and continued throughout 2014.  While there were plenty of consumer-grade releases as well, everyone filled out the high-end a fair bit.  Additionally, nearly everyone now has phase-detect autofocus in their cameras, making mirrorless a viable option for many types of moving subjects.
Sony expanded their outstanding a7 lineup with the 12 Megapixel a7s, which features perhaps the best low-light performance of any 35mm format or smaller camera ever made.  They also upgraded the original a7 with the a7 II, adding better ergonomics, better build quality and 5-axis in-body image stabilization – a first for a full-frame camera.  I have the a7 II in my hands for the next week, so look for a full review on that camera soon.  Sony also looked to expand enthusiast offerings in the APS-C space and did so aggressively with the excellent a6000.  The a6000 packs a huge amount of features and an excellent 24 megapixel sensor into a small and surprisingly affordable camera.  The a6000 is my vote for best value camera of 2014.
Sony also expanded the lens lineup to cater a bit more to professionals.  The pro-grade FE 70-200mm f/4 OSS and FE 16-35mm f/4 OSS (which I'll be reviewing for the next week as well) highlighted the additions.  Sony also announced (but has yet to release) high-end lenses such as a 35mm f/1.4, 90mm f/2.8 Macro and 28mm f/2.0.  Zeiss (without Sony) also released the manual focus Loxia line of lenses for the E-mount.  Sony seems fully committed to the enthusiast market, and this can only be good for the industry as a whole.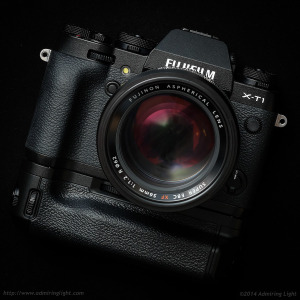 After experimenting a bit with the consumer arena in late 2013, Fujifilm realized their bread and butter was the enthusiast market and focused wholly on that segment.  The biggest splash was made by the Fujifilm X-T1, replacing the X-Pro 1 as the new flagship of the X-Series.  The X-T1 packed a huge host of features into a ruggedly built weather-sealed body with amazing external controls and the best electronic viewfinder on the market.  I fell in love with the camera immediately and it has become my primary body for my personal shooting. They also gave the camera a massive firmware update this month that added 27 new features including an electronic shutter capable of 1/32,000 second shooting.
On the lens side of things, Fuji added the incredible 56mm f/1.2, which has quickly become one of my favorite lenses of all time.  They also released their 10-24mm ultra-wide zoom as well as two new weather sealed lenses: an 18-135mm super zoom and the long-awaited 50-140mm f/2.8 OIS, which is a truly exceptional optic.  Zeiss also released their Touit 50mm f/2.8 Macro for both Fuji X and Sony E mount cameras.  In all, Fuji has really fleshed out their system in 2014, and with the 16mm f/1.4, 16-55 f/2.8, 90mm f/2.0 and 140-400mm super telephoto on the horizon, that trend looks to continue in 2015.  The wildcard?  Will the X-Pro 1 ever get replaced?
Micro 4/3 had a somewhat quiet year for the majority of 2014.  Panasonic released the excellent 4K capable GH4, but the remainder of the year only refreshes of existing cameras, with the E-M10 from Olympus being a somewhat bargain version of the E-M5, and the new E-PL7 and Panasonic GM5 that were announced at Photokina adding a handful of features over their predecessors.  My favorite camera out of the two manufacturers was the 4/3 sensor compact Panasonic LX100, which was released a few months ago.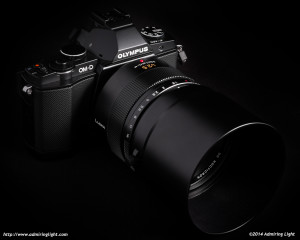 On the lens side, however, there were certainly some very nice developments.  Olympus released the tiny and very good 25mm f/1.8, adding a fast normal to go with the excellent 45mm f/1.8.  Panasonic released two Leica branded lenses: the very good 15mm f/1.7 and the truly amazing 42.5mm f/1.2 Nocticron.  The Nocticron is one of the finest lenses in pure optical quality that I have ever had the pleasure of using. If this is the direction Panasonic is going with Micro 4/3, then there is a lot to be excited about for the future.  Olympus also released their long-awaited pro-grade telephoto zoom, the excellent 40-150mm f/2.8 Pro. They've got two more Pro grade lenses in the wings for 2015 with a 300mm f/4 and 7-14mm f/2.8 both set to be released in this coming year.
The dark horse this year was Samsung, and they put in a huge showing at Photokina this year with the release of their NX1 mirrorless camera.  This is a big camera in the mirrorless world, fitting in similar in size to most small DSLRs, but it packs seriously impressive punch, including the ability to track motion while firing off an astounding 15 frame per second burst.  I handled the NX1 at Photokina and found it to be supremely impressive, even picking it as my 'best in show' after the event.  Samsung also added a fast telephoto zoom, releasing a 50-150mm f/2.8 in a compact and very well-built body.  Samsung has quietly built a very impressive lens lineup, including a very wide aperture 16-50mm f/2-2.8 standard zoom and an 85mm f/1.4 portrait prime.  I haven't had a chance to review the NX1 yet, but I hope to do so in the near future.